As most organisations embrace digitalisation and move away from spreadsheets and folders for their Competence Management Systems (CMS), Namaka Compliance has developed Athena, an online Competence Management, which allows organisations to demonstrate the Competence of their personnel.
Competence Management Software (CMS) Athena Online

Namaka Compliance has embraced Digital Transformation by creating 'Athena', an online Competence Management System (CMS) that allows organisations to track their personnel's Competence in the Energy Sector and allow for career progression and Energy Transition from Oil and Gas into renewables. The old method of conducting competence assessment was the use of logbooks, excel spreadsheets and checklists. 'Athena' has now replaced these old and antiquated ways by using an online CMS in the Oil and Gas sector. This is vital as the world is now advancing into the 4th Industrial Revolution of technology. Such applications are now critical for business operations.
Any company operating in High Risk, High Hazard industries such as Oil and Gas where there is the potential for Major Accident Hazards (MAH) must be legally able to demonstrate that they have competent personnel. This requirement falls under the Control Of Major Accident Hazard (COMAH) Regulations 2015, which must be demonstrated as part of their Major Accident Prevention Policy (MAPP) or Safety Case. COMAH has also stated, "The COMAH regulations and the lessons learnt from major incidents indicate that it is not enough to assume that exposure to training and experience assures competence ".

Athena was designed after a workforce engagement in the offshore industry from various trades to understand better the type of system they would like to see and utilise. Creating the system this way means it not only aligns with industry and organisations requirements but is also compatible with the end-user needs. In addition to this, Training and Competence experts were consulted to ensure that the process flows adequately.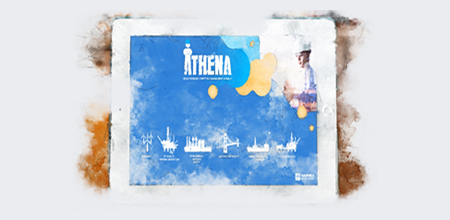 Namaka Compliance has created a CMS that allows the workforce competence to be assessed and verified as competent in organisations undertaking safety-critical roles.
Namaka Compliance has created a collection of unique features within Athena, such as a structured Training Development Plan and Competence Tree Mapping, allowing candidates to progress and pursue relevant career structures. Identification of Leadership and Supervisory positions ensuring safety-critical roles are captured. As part of the digital system, it allows the workforce to include video evidence and Virtual Reality and Augmented Reality headsets. This will enable organisations and their clients, regulators etc., to see in real-time the Competence of their personnel.

The key benefit of Athena is it allows organisations to utilise digital technology to no longer require assessors or verifiers to be onsite, eliminating risks of additional personnel present in major accident hazard sites. Reducing the requirement for flights allowing assessors or verifiers to be onsite also reduces organisations Carbon Footprint and the digital forms created, reducing paper evidence.
Want to know more about how Athena can help your organisation?
Get in touch and find out more