Namaka Compliance collaborate with STC INSISO to address major challenge within the Oil and Gas industry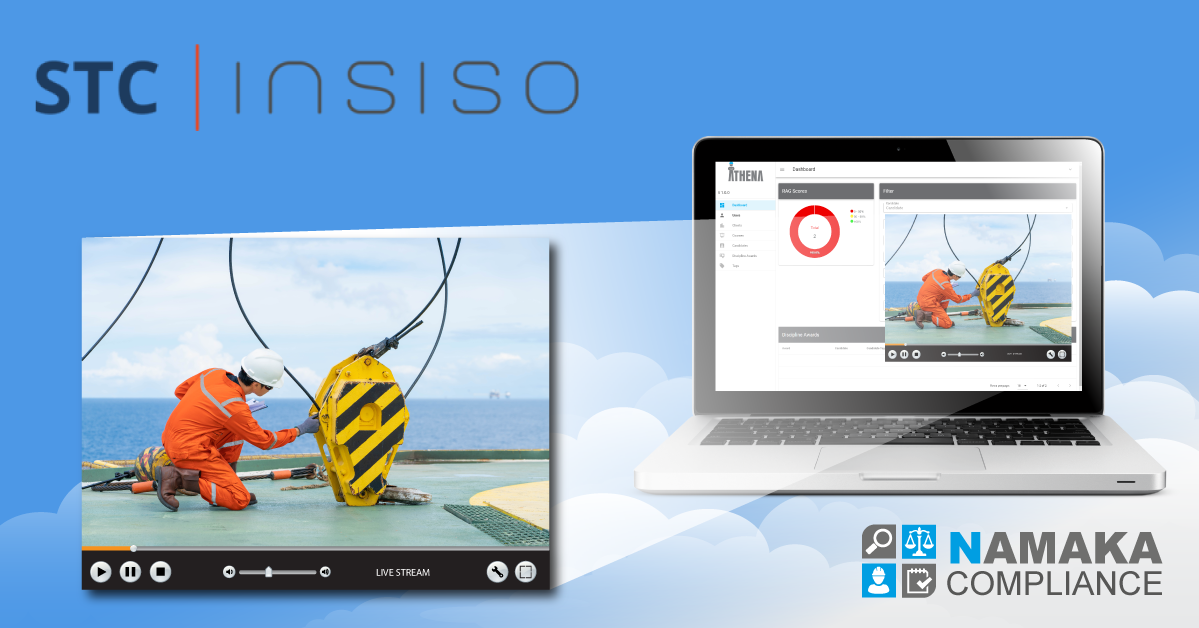 One of the major challenges faced by the Oil and Gas industry is the continuous development and maintenance of an online CMS, whereby the workforce requires to be deemed competent in High-Risk High Hazard Industries.
To provide a solution to this common industry problem, Namaka Compliance commissioned Aberdeen-based STC INSISO, who use smart integration of process design, health & safety solutions, training and innovative bespoke software to improve business performance in a variety of industries.
Namaka Compliance prides itself on delivering dynamic and innovative services to the Energy Industry through training, competence, compliance, and local content. To build on our offering and to create a complete solution, we asked STC INSISO to develop an online Competence Management System (CMS).
To address the challenge, STC INSISO created 'Athena', a cloud-based CMS capable of demonstrating competence with all the assessment and verifications built-in. 'Athena' can upload video footage for remote assessments, identify leadership, track training, and transition capability renewables. STC INSISO's understanding of technology, complete with an awareness of the business process, allowed them to define the best solution for this common challenge. With their focus on modern design, enhanced user experience, and high-quality development, their technical expertise was invaluable, and throughout 2020 both companies worked closely to bring the product to the market, culminating with its official launch in October 2020.
Jamie Murphy, Managing Director of Namaka Compliance, said: "During my experience working with various companies in the Oil and Gas sector, many were still using paper-based systems to monitor ongoing competence assessments. As the industry looks to embrace digitalisation, products like 'Athena' will be key to ensure that competence management is mapped effectively.
"We were delighted to work closely with the team at STC INSISO; they were excellent in terms of their customer service and would always present very innovative ideas in addition to what was proposed and what they delivered in terms of 'Athena' surpassed my expectations.
"I truly believe they have developed a market-leading digital solution. We appreciate the hard work and dedication that went into developing Athena by all parties."
A recent workforce survey of the UKCS (UK Continental Shelf) showed 28% of people's time still involves conducting repeat and routine activities, like training. A move towards transactional tasks becoming more automated over the next decade will allow for more time to carry out strategic endeavors.
Arrash Nekonam, Technology Director at STC INSISO added: "Jamie engaged with us at STC INSISO to create a new compliance platform. Jamie has experience in the field and was able to specify to our team a novel process for personnel competency and compliance for specific disciplines to be created and tracked accordingly.
"The team worked with Jamie directly using our usual agile process to create and evaluate the product which Jamie is now taking to the market, with an interest in making additional improvements.
"We're delighted that Jamie found the engagement with STC INSISO a refreshing, engaging, and resoundingly positive experience after experiencing a poor experience with previous software development projects running over time, over budget, and ultimately not delivering what was sought after. We are proud that he was particularly complimentary on the team and overall delivery performance."
Namaka Compliance continues to work with STC INSISO making alterations and improving 'Athena' and its capability as part of dynamic software.
How can Athena simplify your organisations competency tracking?
Get in touch to find out more