It's a family affair at Namaka Compliance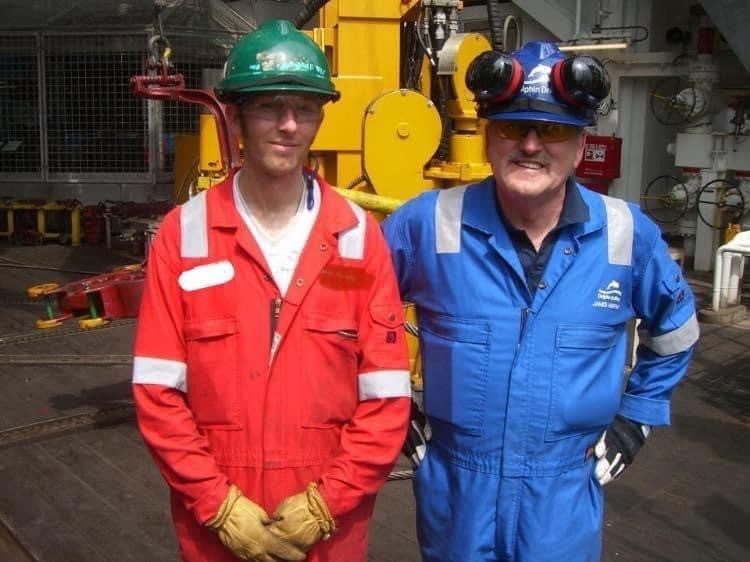 Namaka Compliance's Managing Director, Jamie Murphy has reversed roles with his father James, aka Jim Murphy, as he is now employed as a regular consultant by his son. When Jamie had first left the army, his father employed Jamie as a Trainee Health and Safety Trainer at his former company, which he then sold into the Global Energy Group, Jamie gained a vast majority of experience and accreditation in Training, Health and Safety and Competence.
After selling his business, James had caveats in place restricting him from running a business, so for 2 took on the role as VP HSEQ at Dolphin Drilling, whereby in the photo attached in July 2014 he was offshore to assist the Liberian Government and external agencies to ensure they could undertake audits as Dolphin Drilling senior managements commitment to safety and to demonstrate Local Content was being undertaken. At the same time Jamie was onboard training Local Nationals and Expatriates in Health and Safety courses. They both ended up on the Bolette Dolphin for several days together in what was their first time being offshore together.
A year later from the their time being offshore together they both formed a company which was later acquired by an EPC in Aberdeen and worked there for several years, Jim mentored his son Jamie in not only all areas of Health and Safety, Training, Competence and Local Content but also managing and running a business. With their departure from their previous company, Jamie was contacted to set up a compliance based company to the demand not only seen in the Subsea Sector but across Drilling, Petrochem, Renewables onshore and offshore by Sandy Harper, CEO of Namaka Group of companies.
Recently Namaka Compliance has been awarded several major contracts in terms of Health and Safety support and Jamie said "I could not think of a better person than Jim, who is not only my father but has a vast operational and practical experience along with being a Chartered Member of IOSH. This has been a role reversal for me as previously I had always been employed by my father but in this instance he is now working for me at Namaka Compliance and having to report regularly on projects. We have worked together for years as a team, so it is great to have the opportunity to utilise his skills of 45 years in the Energy sector once again. I look forward to working closely for the foreseeable future".
How can Namaka Compliance assist our organisation?
get in touch today